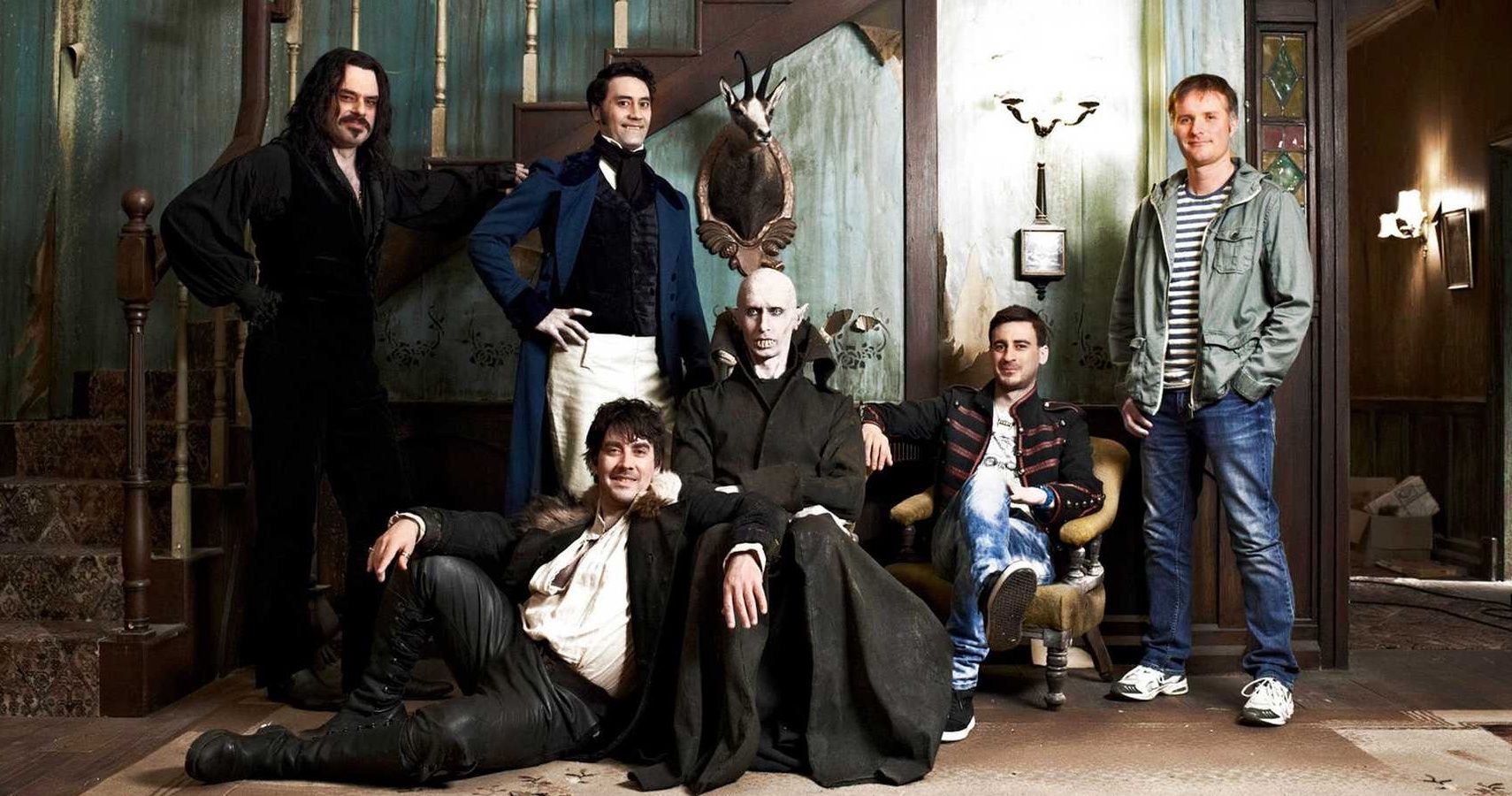 10 Movies To Watch If You Loved What We Do In The Shadows Movie
The movie What We Do In the Shadows is a 2014 mockumentary about vampires living in New Zealand. It derives much of its humor from old lore about vampires being put into real-life practice in the present day. If vampires have to be invited in wherever they go, that makes it pretty difficult for the main characters (Viago, Vladislav, Deacon, and Petyr), to go anywhere. Luckily, they make friends with a few humans (and new vampires) who help them out.
RELATED: What We Do In The Shadows: 5 Awesome Celebrity Cameos (& 5 That We May See Next Season)
Considering the second season of the TV show just released, let's take a look at 10 films that you'll love if you enjoyed What We Do In the Shadows.
10 Boy (2010)
Written, directed, and starring by Taika Waititi, Boy is the story of Alamein, known as Boy (James Rolleston), who is a Michael Jackson fan. When his father Alamein (Waititi) returns after years of being estranged, Boy and his younger brother Rocky (Te Aho Aho Eketone-Whitu) hope he has come to stay.
Unfortunately for them, Alamein fancies himself the leader of a gang and has only come to dig up money he left behind on their farm. Waititi's trademark humor shines in this film.
9 Calvary (2014)
Calvary tells the story of a Roman Catholic priest (Brendan Gleeson), who, after receiving a death threat from a man who claims to have been molested as a child, struggles with a malicious, cynical community. This film ruminates on sin in the Catholic Church, as well as guilt, suicide, and virtue.
A black comedy, Calvary features a main character whose death would be more negative than positive for the community he's part of, as well as for the Church, even if the community members don't realize that. Therefore, Father James gets his affairs into order, all the while knowing he doesn't deserve to die, but going ahead anyway.
8 Hunt for the Wilderpeople (2016)
Also directed by Waititi, this film covers a boy and his foster father as they become the target of a manhunt. Ricky (Julian Dennison) is in foster care, currently staying with Bella (Rima Te Wiata) and Hector (Sam Neill). After Bella dies suddenly, Ricky escapes into the New Zealand bush, not wanting to go to another family or land in prison. Hector follows him and the two become lost. Police begin to search for the duo, believing that Hector is mentally unstable.
RELATED: The 10 Best Indie Horror Movies Of All Time, According To IMDb
Hunt for the Wilderpeople is another excellent use of the New Zealand landscape and is worth a watch.
7 Jojo Rabbit (2019)
Jojo (Roman Griffin Davis) is a young boy growing up in Hitler's Germany. He discovers his mother is hiding a Jewish girl, Elsa (Thomasin McKenzie), in their house, and with his imaginary friend, Adolf (Taika Waititi), Jojo expands his blindly nationalistic worldview.
His mother Rosie (Scarlett Johansson) laments his belief in the Hitler Youth, as she feels that optimism is the best way to free oneself from oppression. As the war drags on, Jojo and Elsa both have their worldviews changed by the other.
6 The Death of Stalin (2017)
After the death of Joseph Stalin in 1953, his cabinet and the future leaders of the USSR squabble over how to run the country. Based on the graphic novel by Fabien Nury and Thierry Robin, The Death of Stalin is a comedic take on politics. The head of the Interior Ministry, Beria (Simon Russell Beale) is the first to try to turn the situation to his advantage, though Nikita Khrushchev (Steve Buscemi) soon follows his lead.
Ultimately, the fate of the USSR is decided by contentious jockeying for power, as well as short-lived power plays. Though one leader comes out on top, several years later another is waiting to take their place, hidden in the wings.
5 7 Days in Hell (2015)
Aaron Williams (Andy Samberg) is the foster sibling of Venus and Serena Williams, and is also a star tennis player in this mockumentary. He plays a week-long tennis match with Charles Poole (Kit Harington), a child prodigy who has been threatened that he will be disowned by his mother if he doesn't win.
RELATED: 5 Indie Horror Films From The '90s That Are Way Underrated (& 5 That Are Overrated)
Over the course of seven days, Poole and Williams create a strange rivalry that eventually devolves due to the pressure the two are under. Bringing together sports, absurdity, and humor, this is one film that isn't to be missed.
4 Best in Show (2000)
This film covers the interesting, yet strange, world of dog shows. Five owners and their dogs all arrive for the Mayflower Kennel Club Dog Show in Philadelphia, and the camera follows them through to six months after the show. The owners and dogs are eerily similar, which ends up providing many of the laughs, as well as a few sad moments.
For example, one couple believes they take perfect care of their dog, while in reality their bizarre behavior is only confusing and upsetting her. Despite this, Best in Show is a classic mockumentary.
3 This is Spinal Tap (1984)
This classic mockumentary film, known for the dial that goes to 11 as opposed to 10, is a must-watch. A filmmaker follows the members of the rock band Spinal Tap as they undergo a tour that increasingly goes wrong.
Many of their previous drummers have died in strange ways, such as gardening accidents and spontaneous human combustion. The band fights with their manager, further endangering their grand plans. Ultimately, it seems they all might go their separate ways until a specific song comes to their rescue.
2 A Mighty Wind (2003)
Three not-quite-famous folk bands come together for a reunion concert, after not having played together in decades. The Folksmen reunite easily, and play well together, while the New Main Street Singers is the second generation of an earlier band, formed by their only living member. Mitch (Eugene Levy) & Mickey (Catherine O'Hara), the third group, have some friction, especially considering they aren't together romantically anymore, but ultimately figure everything out in time for the concert.
RELATED: 5 Things The What We Do In The Shadows Show Does Better Than The Film (& 5 Things It Doesn't)
As with Best in Show, the film then jumps ahead six months to investigate how everyone's lives are going.
1 The Brand New Testament (2015)
God, as it turns out, has a wife and young daughter and lives in an apartment in Brussels. He torments humans through a computer, having only created them because he is a sadist.
His young daughter Ea discovers the computer and sends all of humanity their dates of death. She then goes down to Earth to create a Brand New Testament and find her own apostles, much as her brother Jesus did. Despite the strange premise, The Brand New Testament is worth the watch.
NEXT: 10 Indie Masterpieces You've Probably Never Seen
Next
10 Sci-Fi Bombs With Great Stories That Deserve A Reboot