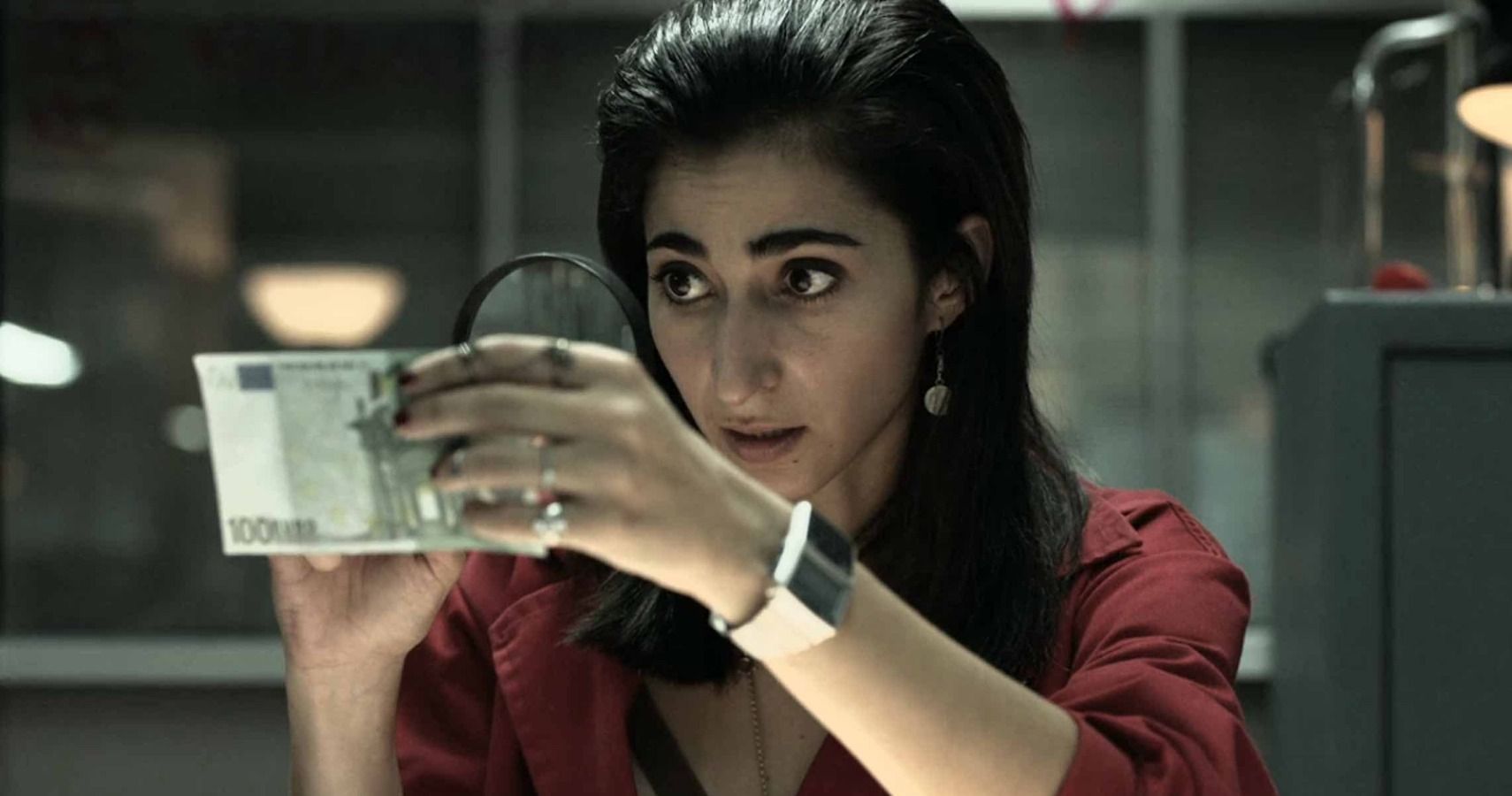 Money Heist: 10 Interesting Facts About Alba Flores (Nairobi)
Money Heist can boast about being one of the few non-English shows that have viewers glued to their screens. In a cast showcasing misfits, Nairobi (Alba Flores) stands out as the one who is tenacious and tough but still maintains her level-headedness amid immense tension.
RELATED: Money Heist: 10 Smartest Characters Ranked
Her confidence, strength, and leadership make her even more popular. While Alba Flores' acting keeps us entertained, her life away from the screens is seldom discussed. Is she as pragmatic and sensational as her character in Money Heist?
10 Born In Family Of Artists
Having a family of artists and actors more than likely influenced Alba Flores' career choice. She was born on October 27, 1986, to Antonio Flores and Anna Villa and named Alba Gonzalez Villa. Her father was a musician and composer, while Villa was a theatrical producer. Her grandmother, Lola Flores, is one of Spain's renowned actresses and singers.
Lola Flores was nicknamed "La Faraona" for her flamboyant on-stage character. Alba Flores' aunts, Rosario Flores and Lolita Flores are well-known singers in Spain. Besides, her cousin Elena Furiase is an actress. Another member of the family who is likely to have influenced her career as a performer is her grandfather Antonio Gonzalez (El Pescailla). He was a flamenco composer and singer.
9 She Started Acting Classes At 13
Alba Flores' dream of becoming an actress started to show promise when she began her training in dramatic interpretation at thirteen years of age. She also took piano performance classes while at it. Her transitory career on-stage saw taking up minor roles in Honeymoon in Hiroshima and A Midsummer Night's Dream. In 2005, Alba Flores made her first appearance in movies in El Calentito, working together with performers such as Ruth Diaz and Lluvia Rojo.
8 Alba Flores Was Raised By Her Mother
At the age of eight, Alba Flores went through the traumatic experience of losing her father. Antonio Flores was 33 years old when he overdosed on alcohol and barbiturates, resulting in his death.
RELATED: Money Heist: 5 Best Relationships (& 5 That Fans Hated)
This happened only two weeks after her grandmother Lola Flores had passed away. The unfortunate event saw her mother, Anna Villa raise her singlehanded. As a theatrical producer, it is no secret that she molded her into the actress she is today.
7 Is She Dating Helsinki?
Alba Flores has kept her personal life very private. Her social media accounts, like the Instagram account, is strictly professional. Typical of fans, they wonder if she is single or not. It is, therefore, not shocking that her undeniable chemistry with Helsinki (Darko Perić) in Money Heist left fans speculating a behind-the-scenes romance. Her previous relationship was with Ondina Maldonado, a Spanish singer.
6 She Was Not In The Original Cast List Of Money Heist
The character, Nairobi, was not in the original script of the series Money Heist. In an interview with The Oprah Magazine, Flores explained that after working with the creator of Money Heist, Alex Pina, in another Spanish series known as Vis a Vis, he asked if she wanted to join the series.
Alex Pina reckoned that the series was not going to work with only one female character (Tokyo) and decided to add Nairobi. He wrote a role for Flores, bringing to life the character, Nairobi. It is hard to imagine Money Heist without Flores though.
5 She Was Bitter About Nairobi Dying?
Alba Flores is anything but bitter about leaving Money Heist. In an interview with the press, she affirmed that the death of her character was inevitable. There had to be a big loss to the team according to how Money Heist was scripted.
RELATED: Money Heist: 15 Best Characters Ranked
Flores, however, reiterates the traumatic end of the character wishing she had died more heroically. Nonetheless, she seems at peace with the fate of Nairobi. In her words, leaving the show is a "liberating feeling" because she needs the rest after working tirelessly on the show.
4 Flores' Favorite Season Of Money Heist
While Alba Flores enjoyed being part of the four seasons of the show, she admits that the second season was her favorite. In an interview with identity magazine, Flores said that she had the most fun when shooting season 2 of Money Heist. She also liked that her character, Nairobi, was able to show her sensitive side, other than just being a tough character.
3 Her Favorite Money Heist Co-Star
In a show filled with a rollercoaster of emotions and tension, a fun co-star on set would have come in handy. Most people expected her favorite co-star to be Tokyo or Professor, but Alba Flores had more love for Berlin. Flores credits Pedro Alonso (Berlin) for being the funniest on set in Money Heist. In an interview, she said that she enjoyed working with Alonso more than the rest of the cast.
2 Other Screen Roles
Before making her debut in Money Heist, Flores had already made a name for herself in the series Vis a Vis, another captivating Netflix show. Her character in Vis a Vis saw her win an Ondas Award for "Best Female Performer in Fiction" in 2015.
In 2017, she also won the "Best Supporting Actress in a Television Series" in the Award of the Spanish Actors Union. Other works she has been involved in before include the series El Tiempo entre costuras and El syndrome de Ulises.