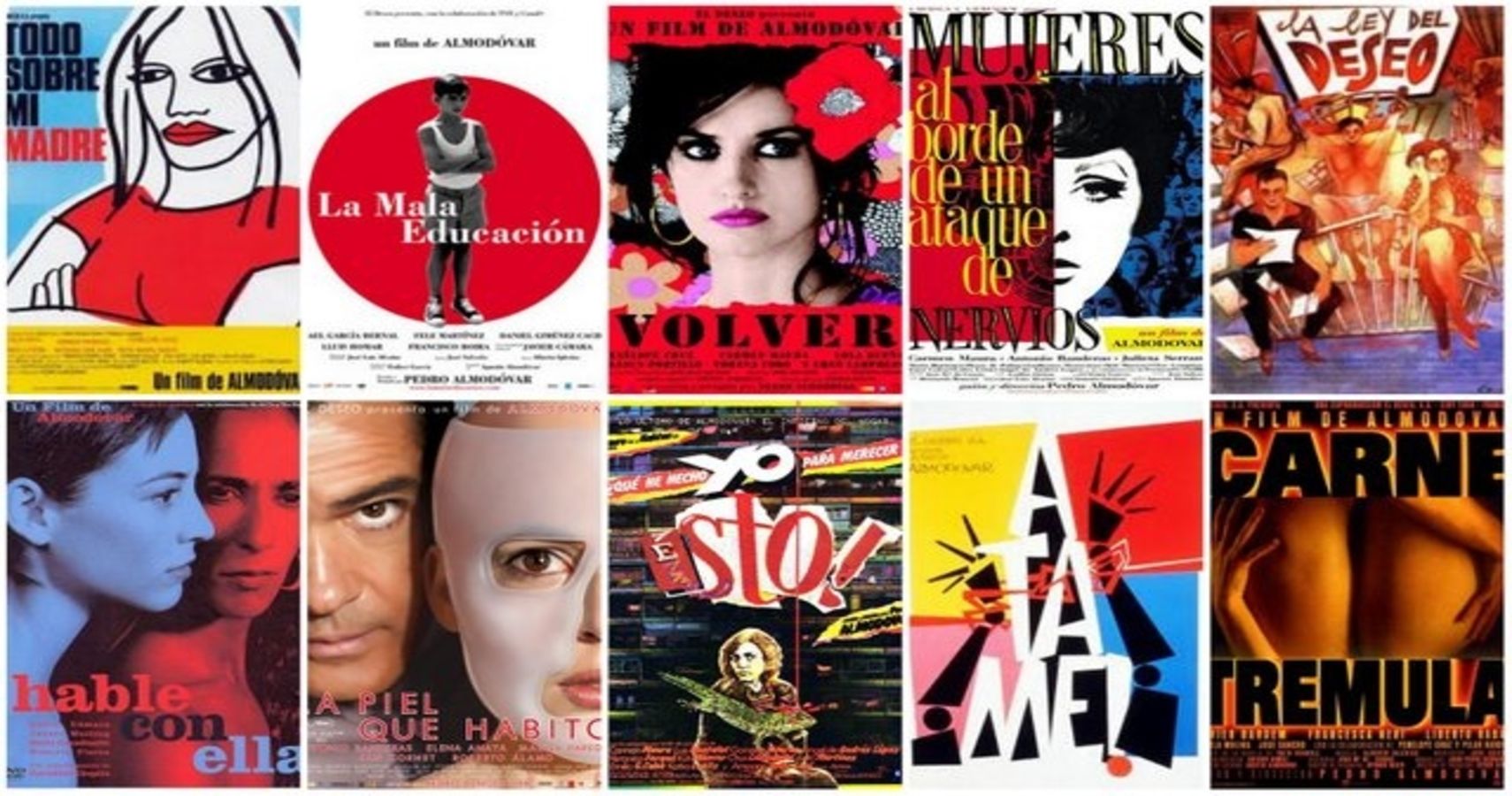 Pedro Almodóvar's 10 Best Films According To Rotten Tomatoes
Pedro Almodόvar is a creative and talented art-house director (with the occasional horror attempt, usually successful) from the beautiful Castilla–La Mancha of Spain (anyone read Don Quixote by Miguel de Cervantes?), but his fame has reached much further than the borders of his country, with multiple collaborations with Antonio Banderas and Penélope Cruz, as well as multiple nominations and wins in the Academy Awards, BAFTAs, and Golden Globes.
RELATED: 10 Best Pedro Almodóvar Movies
Almodóvar, faithful to the language of his country, has never shot in English as he expects his devoted international audience to make the extra effort and read subtitles (although there are a couple of English-speaking projects probably brewing). Here are his ten best films according to Rotten Tomatoes (ties were settled by greater number of ratings).
10 Julieta (2016) – 84%
This (one of his most recent films) was based on a few different short stories from the book Runaway by Alice Munro. It was nominated, amongst others, for the European Film Award and for the BAFTA. After an accidental meeting with a friend of her daughter, whom she has been estranged from for years, middle-aged Julieta (Emma Suarez) finds out that her daughter has reappeared in Madrid.
She rents an apartment there to be close to her and this instigates a harrowing contemplation by Julieta into her tumultuous history, reflecting back to the events of hurt that marked her whole life.
9 Bad Education / La Mala Educación (2004) - 88%
This was a subversive movie for its time and an unparalleled addition to European LGBTQ+ cinema. It is a very layered film with the borders separating fiction from reality getting ever blurrier as the film progresses, but let us take a shot at describing it. This movie tells the story of two old classmates and friends who attended the same Catholic school.
RELATED: 10 Best International Movies Of The Decade
Years later they meet again, one now an actor and writer, the other a filmmaker. The actor has written a short story called "The Visit" and he pitches it to the filmmaker; a story strangely similar to the events that traumatized the two friends while they were still in school and changed the courses of their lives.
8 Women On The Verge Of A Nervous Breakdown / Mujeres Al Borde De Un Ataque De Nervios (1988) - 90%
This black comedy-drama features a lot of antics and whacky parts, with a story that becomes dizzyingly difficult to follow sometimes, but the irreverent humor makes up for it superbly. The small flat of pregnant actress Pepa Marcos is the primary setpiece for this kind of confusing tale where people accidentally drink spiked gazpacho, fugitives from justice hide, people engage in extra-marital sex, relationships rise up and fall apart, and ultimately women suffer from nervous breakdowns.
The film was nominated for an Academy Award and a Golden Globe and at the time of its release, it was the highest-grossing Spanish movie in the US.
7 Volver (2006) - 91%
The narrative comes from Almodóvar's past film The Flower Of My Secret (1995), where it is presented as a novel declined for publishing, but plagiarised for the scenario of a movie called The Freezer. Volver tackles subjects such as sexual battery, solitude, and death, mingling farce, tragedy, drama, and magical realism.
RELATED: The 10 Best Spanish Shows On Netflix Right Now
Taking place in the La Mancha province, Almodóvar's birthplace, the director referenced his childhood as a key inspiration for numerous features of the story and the characters. Penélope Cruz plays Raimunda, a working-class woman driven to great lengths to safeguard her 14-year-old daughter, Paula.
6 Matador (1986) - 92%
Have you ever seen two people in a film and thought that they are made for each other before they themselves even know it or -better yet- before they even meet (or perhaps that the screenplay gods made them to be made for each other)?
This is the case with Diego, a chronically injured and retired bullfighter who now teaches bullfighting, and Maria, a successful lawyer. Fate brings them together through Ángel, Diego's student and Maria's client, when he confesses to murders that he did not commit; nevertheless, he stands chillingly close to the ones who did…
5 Talk To Her / Hable Con Ella (2002) - 92%
This drama film unfolds in flashbacks and narrates the story of two different relationships between two men who take care of two comatose women. They form a friendship the second time they meet, in the hospital where the women are treated (the first time was at a dance theater).
RELATED: 10 Compelling Foreign Films Not Enough Of You Have Seen
Marco is a reporter and travel-writer who cares for his girlfriend Lydia González, a celebrated matador. Benigno is a private nurse and carer for Alicia Roncero, an attractive dance apprentice, who may be in a coma, but Benigno believes she can hear him. He has been obsessed with her even before she was comatose and he does all he can to keep seeing her.
4 Pain And Glory / Dolor Y Gloria (2019) - 97%
The filmmaker was again praised in his most recent film (also Antonio Banderas' and Penélope Cruz's most recent film) for his superior direction and writing, and for his -perhaps intentional, perhaps not- thoughtful introspection and reflection of his own life as a person and artist.
RELATED: Best Foreign-Language Films of 2019
Banderas's Salvador Mallo is the embodiment of the struggling artist – not the young one who has a hard time starting type, but the successful middle-aged one who has a hard time continuing. Tortured by both physical and emotional pain, he relies on medication, until his interest in making movies is revived when he is reunited with his friend and actor, Alberto, who wants to make a movie out of Salvador's deeply personal text "Addiction".
3 All About My Mother / Todo Sobre Mi Madre (1999) - 98%
This film was extremely progressive for its time; it portrayed a plethora of LGBTQ+ characters, as well as characters that at the time would be considered by audiences as fringe (in the negative connotation), in a very positive light; in a world of traditional family values, it promoted family love, but of a different kind: the love one has for the family they chose, no matter what that family is like.
The movie focuses on Manuela, an Argentine nurse in a hospital in Madrid. On his seventeenth birthdate, her son Esteban is hit by a car and killed. Manuela transports her son's heart to be transplanted to a guy in A Coruña. After delivering the heart, Manuela quits and travels to Barcelona, where she wishes to locate her son's father, Lola, a transgender woman who was never told of Esteban.
2 Labyrinth Of Passion / Laberinto De Pasiones (1982) - 100%
This was the second-ever film by Almodóvar, who was still partial to screwball comedy at the time (although considering the title of this film, that's not the first thing that comes to mind). A team of some very oddball characters comes together in this film, with first and foremost Sexilia (no, seriously), a pop star and nymphomaniac, and Riza, the homosexual son of the Emperor of Tiran (an imaginary Middle Eastern nation).
RELATED: 10 Groundbreaking LGBTQ Movies
Riza stays incognito in Madrid and happens upon Sexilia by chance when he is disguised as the lead singer with a punk band. The two start an experimental relationship that they hope will be different than all the ones that preceded it.
1 Law Of Desire / La Ley Del Deseo (1987) - 100%
This was the first film in Almodóvar's career that focused solely on LGBTQ+ relationships, as well as the first film to be shot by his own production company, El Deseo. The narrative centers on an intricate love triangle amongst two men and a trans woman. Pablo, a thriving gay movie director, dissatisfied in his affair with his younger lover, Juan, focusses on an original project, a soliloquy featuring his transgender sister, Tina.
Antonio, a bad-tempered young man, falls greedily for the director and in his hunger would rest at nothing to gain the item of his desire. The connection between Pablo and Antonio is at the heart of the story; still, the personal drama of Pablo's sister, Tina, is pivotal to the narrative.
NEXT: 12 Best Spanish Language Movies And TV Shows On Netflix
Next
Friends: 5 Funniest Chandler Quotes (& 5 Most Heartbreaking)